Yes, yes, yes!! On 23.12.2015 we got 6 puppies :)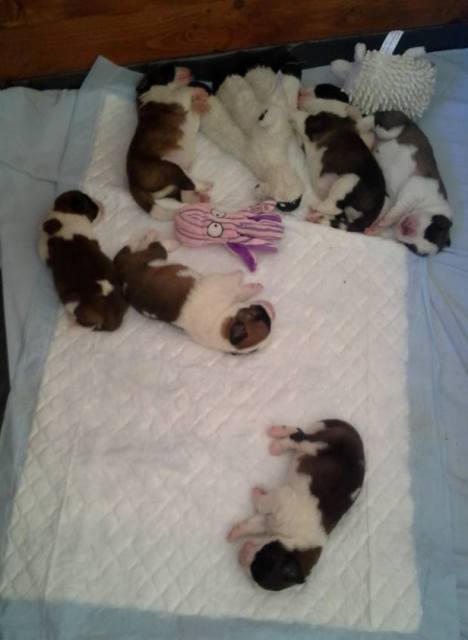 puppies have 5 days

More about parents and litter here: >>

RESEVATIONS AND INFORMATIONS you can get on telephone
+386 41 805367 or e-mail: jana@tyronica.si



YOU WANT TO BUY OUR PUPPY?

Our breeding goal is to get healthy saint bernard with a stable character. That's why we carefully plan every breeding combination and that's why I don't repeat combination and that's why I don't care how far away lives male (till now males were from France, Finland, Belgium and Holland). All healthy results are on my home page (good and bad). Every female has normaly only 2 litters in her life.

Our puppies and adult dogs are family members and they don't live in kennels.

Ussually all begins before puppies are born. We are always happy, if you will visit puppies, mother, us ... We will always help you to chose the right puppy for you. When you chose a puppy, you have to pay a deposit. It's a guarantee for us and for you.

All our puppies:
- get FCI pedigree;
- are vaccinated, dewormed several times and with a chip;
- before they leave our house, they are health checked at our veterinary.
Every buyer of Tyronica puppy get a quality dog food for first few days. Every puppy gets his own toy, leash , a collar and glucozamin for few weeks.

We cafefully chose males for our females. Not every male is good enough for us. We take care for healt condition of male and his character (agressive saints are not acceptable for us !!).




PAST LITTERS:

S - LITTER more >>
Born: 26.04. 2011
11 puppies: 6 males, 5 females





D - LITTER (under kennel od Stra×c¨ hor) more >>
Born: 17.11. 2007
8 puppies: 3 males, 5 females




B - LITTER more >>
Born: 20.05. 2005
8 puppies: 3 males, 5 females (2 males born dead)
á